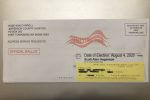 "Vote by mail" is the latest mantra from a great many Democrats and even Republicans like US Senator Mitt Romney. House Democrats in May - their contribution to the $3 trillion stimulus bill passed that month - included $3.6 billion to implement vote by mail systems in states.
It does appear to work in some states, such as Colorado and Oregon. One of our sons lives in Colorado and receives his ballots at home and votes by mail, or can drop it off at one of their "secure" nearby locations. Few, if anyone, complains about election fraud in those and four other states because they've invested heavily in their voting infrastructure, including the integrity of their voter rolls.
This is not to be confused with "absentee ballots" or voting early. I have voted consistently by absentee here in Pennsylvania since moving here in 2002. I was always out of state on election day. With absentee voting, an active, registered voter requests a ballot mailed to his or her home. They cast their ballot, follow all the instructions, and place it in the mail or deliver it in person. You have to sign the outside of the envelope (not the ballot, obviously) so your signature can be compared to the one on file.
That's not how "vote by mail" works. The election board just mails the ballot to the address on file, whether you asked for the ballot or not, or even whether you live at that address. There are plenty of stories about people receiving multiple ballots at their homes. And then there were some 16 million mail-in ballots that went missing in the last two elections.
Here's the reality - most states do a terrible job of keeping their voter rolls up to date. The 1993 Voter Registration Act requires states to take certain measures to make sure ineligible voters - people who have died, relocated, or are otherwise ineligible - are removed, along with those who haven't voted in two consecutive elections and failed to respond to mail requests to confirm their voting address. Those with active drivers licenses generally cannot be removed from voter rolls.
Take, for example, Los Angeles County, California, home to millions of voters. They let their rolls become so polluted with ineligible voters that the Public Interest Legal Foundation (PILF) and Judicial Watch filed suit. They settled and the county agreed to remove 1.5 million inactive voters from their roles, consistent with federal law. I'd say that's enough to influence an election. Unfortunately, White House Press Secretary Kayley McEnany wasn't up to date recently on the machinations in that county and claimed that 112 percent of the eligible population was registered (no longer true).
And don't get me started on the number of media reports from places like Chicago and Philadelphia with scores of dead people who have been voting from the grave for years, if not decades. And they are far from the only cities. Even Denver.
It kind of lends credence to something the late, great Governor of New Jersey, Democrat Brendan Byrne, once said: "I want to be buried in Hudson County so that I can remain active in politics."
California also permits something that most states have outlawed - ballot harvesting. A congressional election was overturned in North Carolina's 9th Congressional district in 2016 when a sleazy political consultant, McCrae Dowless, who had worked for both parties in previous years engaged in illegal ballot harvesting on behalf of his GOP client, Mark Harris. That means someone can legally collect ballots and turn them into local election officials on behalf of voters. Only my spouse can turn in my "vote by mail" ballot here in Pennsylvania. California Democrats legalized it in time for the 2018 elections and used it to help defeat at least 5 GOP Members of Congress (the GOP recaptured one of those seats, the one held by disgraced former Rep. Katie Hill, whose seat is now held by newly-elected GOP Rep. Mike Garcia).
Ballot harvesting is an invitation to voter fraud and disenfranchisement. A ballot delivered to your home today can arrive at the same time as someone who just happens to show up at your door and "offers" to collect your ballot and return it to election officials and wait while you cast your ballot. Or maybe answer questions, or help you pick the "right" candidates. Or maybe just throw away your ballot if you're suspected as voting "wrong." Oh, and the union representing US Postal Service carriers have endorsed Democratic nominee-presumptive Joe Biden. That inspires confidence.
This WSJ op-ed (linked and pasted below) gives one example of how opportunities for fraud exist. But it is worse than that - voters can be disenfranchised. Due to "issues" at the USPS these days, people in Philadelphia are not getting their mail. Or having their mail picked up. And these are mostly Democrats.
Both my county here in Pennsylvania (Delaware, population 560,000) and much of the rest of the state and, of course, New York took WEEKS to count votes from recent primary elections due to the 1) closing of some polling locations and 2) a bigger-than-expected volume of votes by mail. I voted by absentee. I hope my vote counted. I'm not certain, although I did get an acknowledgment that the county received my ballot. I should know better - I've personally been involved in elections with active voter fraud, in northeast Texas (fraudulently forging signatures of nursing home residents and casting ballots on their behalf) and Louisiana (13 actives registered at an empty lot). Don't tell me it doesn't exist. I know it does.
And I have the opportunity to cheat this November. While I'll be voting where I live - either in Virginia, where I have 2nd residence, or Pennsylvania, where I live now (and am still trying to sell my house), I remain on voter rolls in both states. I've notified both states that I am a Pennsylvania voter, but I remain on Virginia's rolls, and continue to get mail there about voting "absentee."
I'll be voting in person this November 3rd (at one location OR the other). So should you. There is no evidence, says the CDC, that voting in person (at least in Wisconsin) causes spikes in COVID inspections. More here:
Bottom line: Vote by mail is a prescription for the erosion of confidence in our election, and an invitation to disaster. It must be rejected.